(Last Updated On: November 19, 2018)
Are you looking for a full body workout on how to build muscle as beginners? Then everything speaks for an entire muscle build training plan: He calls on all muscle groups in unity and gives you enough time to recover – if it is properly compiled. >>Learn here the best tips for Muscle building>>
By the way, did you recognize that you should eat about 300 to 500 calories daily to build muscle? In our Muscle Building Diet Special (including free nutrition plan) you will learn what matters!
The General Tips You Should know on How To Build Muscle
There is a different ways to build muscle: you can train frequently and long, or rarely and briefly. You can move much weight only a few times or a little weight very often. You can make the muscles work dynamically or isometrically.
However, even though the training methods differ in practice, guidelines have been found over the decades in research and practice, which define an optimal muscle-building training. Beginners and advanced learners who do not train for about a year should orientate themselves as closely as possible and shape their training plan accordingly:
Intensity: 85-65% of the weight you can use to do at most one clean repetition (One-repetition maximum / 1RM)
Execution speed: Continuous and slow to fast
Repetitions: 6 – 12
Phrases: 3 – 5
Pause: 60 – 240 seconds
Training duration: approx. 60 minutes
Training frequency: 2 – 4 times / week
Regeneration time: 48 hours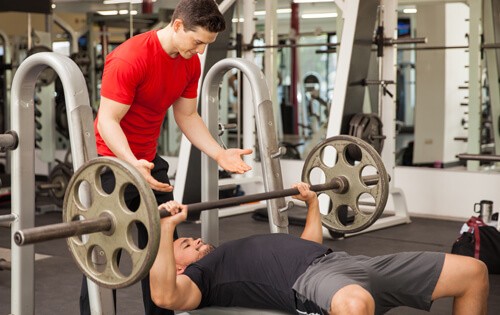 The Best Muscle Training On How To Build Muscle As Beginners
Training leads to an adaptive response of the body to the stresses that make up the training. In our case, the load is the strength training, and the muscle is one of the adaptation reactions.
Beginners in weight training have the advantage that they are poorly adapted to the training load. Why is that an advantage? Because even relatively low pressures lead to an adaptation reaction, that is, to muscle growth ( "beginner gains" ).
That's why beginners are encouraged to go for a full-body workout: one exercise per muscle group is enough to set growth stimuli. So you can challenge the whole body during a training session. Moreover, because the training stimuli are objectively weak, the muscles can easily regenerate within a few days.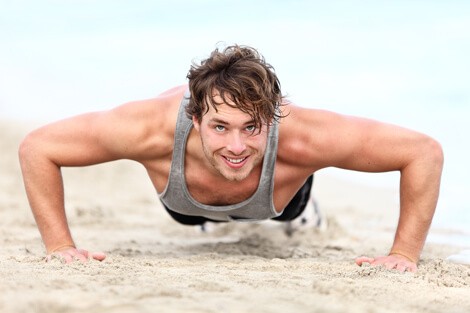 For the advanced or the professional, things are different: they have to challenge the muscle much more to make it grow. Most of the time, this involves completing several exercises per muscle group, which costs time and energy. As a result, not all practices for all muscle groups can be sensibly accommodated in a single workout.
Also, the increasing regeneration time: If someone first has to do squats with 150 kg and then two isolation exercises to move his leg muscles still to growth, the body must first put away – even if the legs are then obviously so strong that they need this hard workout. Especially the central nervous system needs much time to process hard training sessions. You change to a split workout and take only a few muscle groups per workout
That does not mean that only beginners should bet on a full body workout. In principle, even advanced students can get on with it. However, for them, that's a hard number: you have to brace yourself properly to tire all your muscles during this one workout – which is just about the basic exercises and much weight. They are correspondingly flattened and have to regenerate accordingly.
By the way, a training approach that focuses precisely on these two factors – fast fatigue through hard full-body training and long recovery time – is high-intensity training (short: HIT – not to be confused with HIIT: High-Intensity Interval Training). One tries to exhaust the muscles entirely with only one set per exercise, which leads to extremely short training times of sometimes less than 30 minutes. Then you give the body several days to a week to regenerate.
This Is How Your Whole Body Training Plan Might Look (Build Muscle)
In a full-body training plan for muscle building, in contrast to the so-called split training with each workout, the entire body is trained. So choose the exercises in such a way that all muscle groups are demanded about equally strong (unless, of course, you want to tackle an already existing vulnerability deliberately). Here's an example of what a full-body workout plan can look like:
Training days: Monday – Wednesday – Friday
15 minutes warm-up
Basic exercises:
Squats: thighs, lower back, deep abdominal muscles
Bench press: chest, triceps, anterior deltoid muscle
Lat Pull: Latissimus, Biceps
Reverse-Flys: hood muscle (neck), back part deltoid muscle
Isolation exercises:
Lateral Raise: Middle part deltoid muscle
Curls: Biceps (optional)
Press: Triceps (optional)
Calf raises: calves (optional)
Sit Ups: Straight and oblique abdominal muscle
The Full Body Workout Plan for advanced users (build Muscle)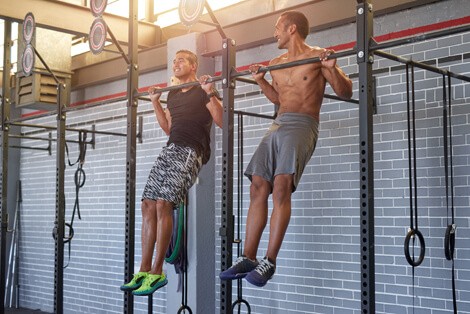 As I said, by continuously increasing the weights, you ensure that your muscles are always faced with new hurdles to overcome through growth. Unfortunately, this effect also slows down over time, and the progress is reduced – both regarding strength, as well as regarding muscle growth. You then reach a so-called "plateau" and have to trick something.
An effortless way to re-energize the muscles is to take a training break of about 7 to 14 (!) Days about every eight weeks. During this week you will not do any strength training; Endurance units you can do (continue). After the week you go down a bit with the training weights and continue like before the break.
Such a pause, called "reconditioning," has two effects: First, it weaned the body so that it reacts more to the training stimuli afterward. Secondly – as we know that muscles grow during the break – such an extended time without stress gives the body the chance to regenerate once fully.
Even if you did not intuit it intuitively, the chances is that after such a long break, you'll build more muscle and gain more strength than during the same period of training.
Variety is king
Another way to keep your muscles in good shape, even as an advanced, is in the same direction: The Advanced Full Body Workout Plan alternates the exercises per muscle group with each workout. In other words, the Advanced Full Body workout Plan primarily consists of two different full body training schedules, A and B, which alternate:
Week 1: AB
Week 2: B&B
This will make every workout a stimulus for every muscle, but this stimulus is always slightly different than that of the previous workout. Muscles have to get used to it again and again. This is how such a plan might look like:
Training A
Squats (Thighs, Buttocks, Lower Back, Deep Abdominal Muscles)
Bench press (chest, triceps, anterior deltoid)
Pull-ups, ev. M. Help  (latissimus, biceps, trapezius)
Reverse fly's (trapezius muscle (neck), posterior part deltoid muscle)
Lateral lift (middle part deltoid muscle)
Barbell Curls (Biceps)
Triceps press on cable pull (triceps)
Crunches (straight and oblique abdominal muscle)
Training B
Leg press (thighs, buttocks)
Shoulder press (anterior and middle deltoid, trapezius, triceps)
Butterfly (Great Pectoral Muscle)
Rowing barbell or cable pull  (latissimus, trapezius muscle, posterior part deltoid, biceps)
Hammer Curls (biceps, upper arm spokes muscle)
French Press (triceps)
Leg raises  (straight and oblique abdominal muscle)
Hyperextensions (lower back)
Calf raises (calves)
Full Body Training Plan For Women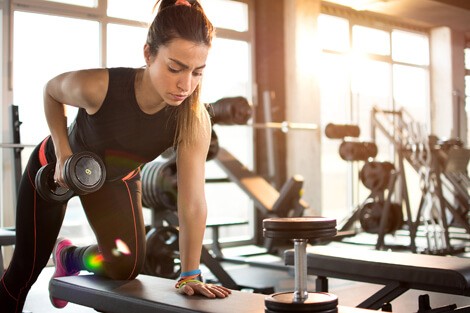 It is increasingly seeping down into favorite sports: women do not have to train differently than men. Why should they? – Women and men do not differ so much physically that they would have to start their training differently.
A full-body training plan for women who primarily want to build muscle and strength, so basically looks like that for men (see above). When there are differences, it's mostly because women are less energetic in absolute terms. Some exercises, such as pull-ups, may be too difficult for them and need to be replaced with slightly lighter alternatives.
Another reason for deviations between men's and women's training plans is the desired look: Muscle development is sought in most cases, also for aesthetic reasons. Moreover, there the ideal images of men and women tend to divide:
Men usually want a V-shaped upper body (with a six-pack), distinct pectoral muscles and a large upper arm circumference.
Women are more interested in a round butt, a flat stomach, and firm arms and legs – but the muscles should not be visible.
What does that mean for the full-body training plan for women